Latest posts by Evangelos Ribeiro Tzaras (see all)
FOSDEM is an annual conference promoting the use of free and open source software. It usually takes place Brussels in early February but due to the ongoing pandemic it took place online this year. Guido, Federico and Evangelos hosted a variety of presentations around free software in mobile devices in a dedicated devroom (a devroom is a place where developers meet and showcase their projects to the public). We want to take the opportunity to thank everyone in the community and our team for giving a presentation or hosting a panel discussion: you helped making this event a great success and (most importantly) a lot of fun!
Librem 5 team contributions
In November 2021, we wrote a proposal for a devroom  and were happy to hear that it had been accepted. After the call for participation was published we received quite a few submissions for talks ranging from kernel and boot loader topics up to UI design, distributions and social aspects.
On Saturday Martin gave an informative talk about what the kernel team has been working on. He covered updates on how the upstreaming efforts towards Mainline Linux Kernel is progressing.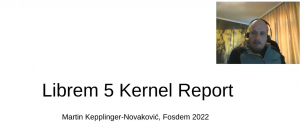 Later on, we had an interesting panel on the status of camera support on mobile FOSS devices, hosted by Jacopo, a libcamera developer. The panel featured David and Naushir from RaspberryPi Ltd, Kate and Hans from RedHat Inc, Daniel from Linux Surface, Benjamin a Pinephone camera developer, Laurent and Kieran from Ideas On Board Oy and Dorota and Martin from Purism participating in the technical discussions.
On Sunday, Tobias Bernard gave a detailed presentation about libadwaita, a library with widgets for GTK4 providing building blocks for modern GNOME applications, with adaptive user interfaces for mobile devices.  These have been written in large parts by our libadwaita team.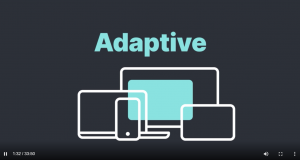 Evangelos gave a talk about GNOME Calls, where he explained what's going on behind the scene, when you place a call.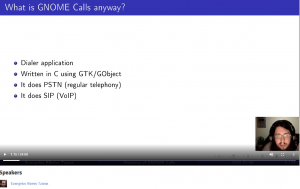 Guido hosted the Phosh Contributors Get Together, a discussion panel with other Phosh contributors: Arnaud, Dorota, Evangelos, Florian, Sebastian, Tobias.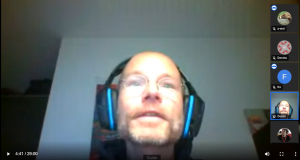 During the closing session, Aleksander, Andreas, Caleb, Chris, Nikita and Oliver joined in the open discussion. We followed up on some questions about phosh and explored a range of topics from modems to GPS and eInk displays and a lot more.
Thank you
While we highlighted the contributions from our team,  we are very thankful to everyone who presented this year and want to encourage our readers to also check out all the  interesting talks by the community. We hope to see you next year in person where we can share some (real) waffles.