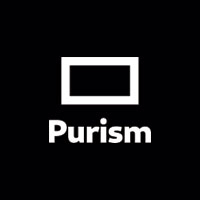 Beautiful, Secure, Privacy-Respecting Laptops & Phones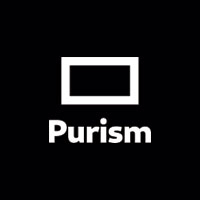 Latest posts by Purism (see all)
Looking for the best time to order your Librem 14 laptop? Librem 14 is one of the most secure laptops we've built so far.  The laptop is designed chip-by-chip, line-by-line, to respect your rights to privacy, security, and freedom. Standard orders ship within 10 days. All you have to do is enter the coupon code, L14SUMMER in the 'Promotion Code' box, at this link, to claim $100 off on your final order.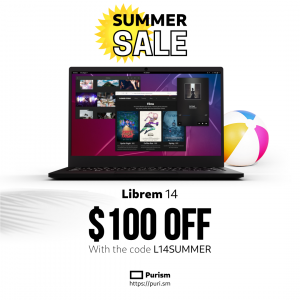 Librem 14 is built for those who want security or control and ownership of their hardware. With its ultra-portable and light form factor, the specifications are made for resource heavy workloads like running virtual  machines, software development, gaming, video editing and animation. Plus the laptop is modularly made for upgradeability. The right choice for those who want a robust machine, with security-first principles.
Looking for guidance on which security options are right for you?
We've built the Librem 14 for any one who cares about the privacy, security and freedom. We also offer options to customize features that you need for your context. Whether you face extreme threats or want some extra peace of mind, you might want to be able to detect if someone tampers with your laptop when it's out of your possession. Anti-interdiction can be particularly handy when traveling and for the initial delivery. You can learn more about our unique, Anti-Interdiction services here. President, Kyle Rankin offers his guidance so you can choose the right option based on your risk requirements. Read his advice here if you have high-security needs. 
What are others saying about Librem 14?
We are grateful for the tremendous trust and positive feedback that our customers share regularly with our teams. Here are just some of the quotes to give you an idea:
"I wish to commend you all on a job well done with the Librem 14. So far, it's the finest laptop I've ever had the pleasure of using." (Librem 14 customer)
"Most laptops on the market nowadays are designed to be unrepairable, and force purchasing new devices as soon as the battery or hard drive gives out. So it's nice to have a few companies actually encouraging users to carry out repairs themselves and keep their laptop alive longer than its warranty." (Viewer on YouTube)
Looking for external reviews?
"Next generation of the Purism Linux laptop"- ZDnet
"Looking for a morally good laptop? Try the Librem 14" –Pocketnow.com
"The king of libre hardware"- Tuxphones.com
"Ultraportable and Ultra-secure notebook" –MakeUseOf.com
Summer Sale for Librem 14 Terms and Conditions: 
1) The code, L14SUMMER will work from 12 May 2022 till 15 June 2022, 12 AM PT (midnight).
2) The special price excludes applicable taxes and applies only on the base model. Customizations and add-ons will be extra, and may involve additonal lead time to fulfill.
3) This code cannot be combined with any other offers, discounts or coupons.
4) Returned items will be refunded at the discounted price as per Purism's refund policy
5) Offers are subject to change without notice. While supplies last.
6) Purism reserves the right to cancel the promotion or any order due to unauthorized use, system error, or unforeseen issues.