Latest posts by Jonathon Hall (see all)
Our latest coreboot/SeaBIOS and PureBoot releases bring new firmware configurations for the Librem Mini v1 and v2!  Many users use the Librem Mini as a headless server and have asked for firmware that would boot up automatically when powered, like an appliance.
Once enabled, the setting persists as long as the RTC battery is plugged in.  The setting is in the EC's battery-backed RAM, and the new BIOS configurations enable this setting during boot.
coreboot/SeaBIOS 4.19-Purism-1
For the Mini and Mini v2, coreboot_util.sh now offers a new menu to select a configuration:

You can choose a config when flashing a precompiled image or building from source.  Once flashed, the next boot enables automatic power-on in the EC.  (If you skip the reboot at the end of the script, you will still have to boot up once before the setting takes effect.)
Since the setting persists in the EC's battery-backed RAM, it will remain active if you switch back to "Default".  To disable it, use the tweak script in the last section.
PureBoot 25
PureBoot's configuration GUI now offers an automatic power-on setting, and there are new settings for PureBoot Basic that are great for headless servers.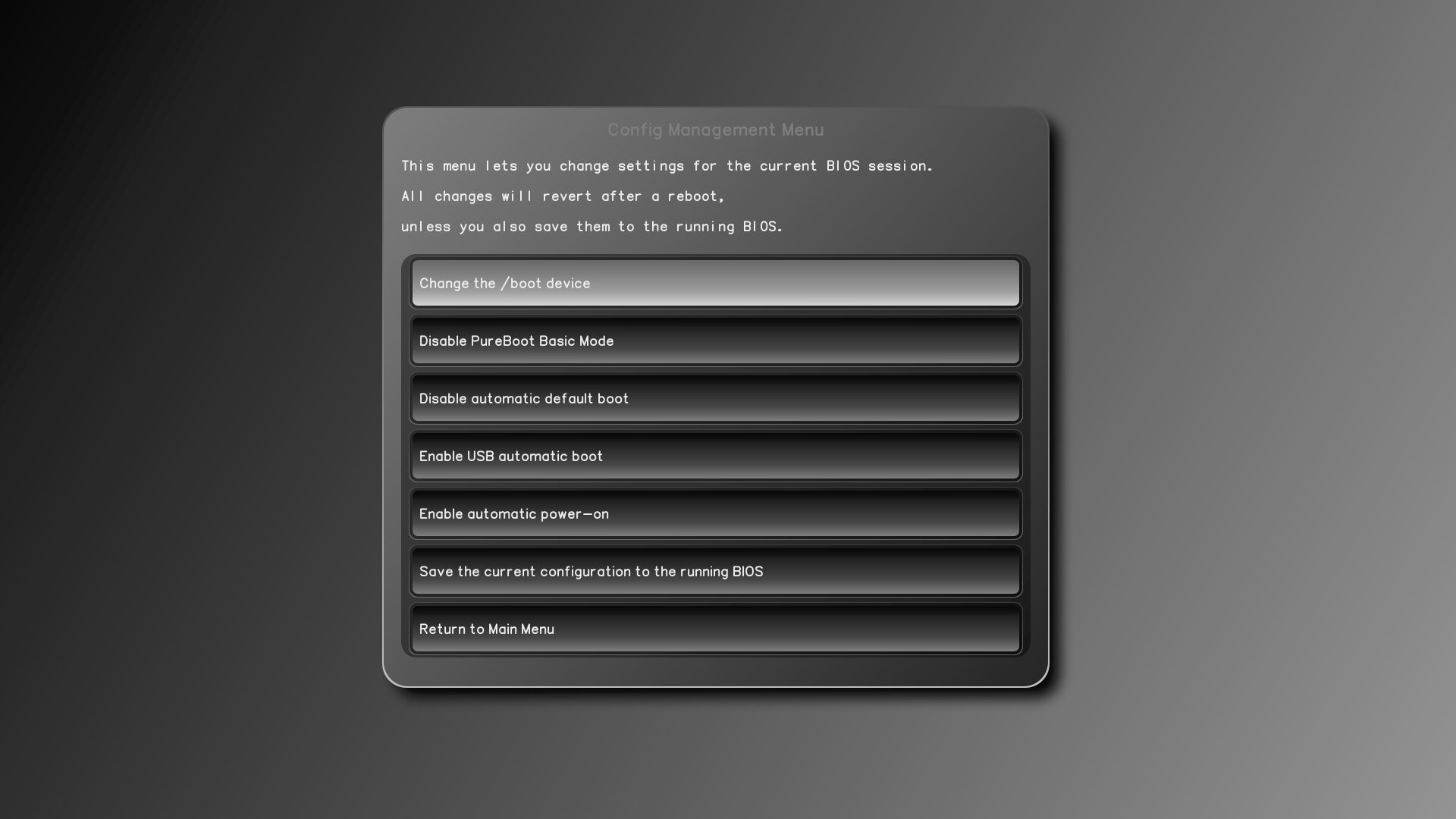 "Disable automatic default boot" is specific to PureBoot Basic.  You don't have to specifically pick the default boot option in Basic.  If your OS updates, Basic still boots automatically without reconfiguration.  If you want control over the default boot option, you can disable this behavior.
"Enable USB automatic boot" is also a Basic-only setting.  With this enabled, the system will boot to a bootable USB device automatically with no intervention.  This way, you can recover a headless system with a recovery image you can control over the network.
"Enable automatic power-on" is exactly what it sounds like.  This tells the EC to automatically turn the system on when power is applied, just like the SeaBIOS configuration.
If you are switching to PureBoot for the first time, and you want a headless Basic server, you can pick a build that we have already configured:

This enables Basic mode, automatic power-on, and USB automatic boot by default.
You're In Control
You can also change the automatic power-on behavior from the OS if you want fine-grained control.  Just leave it off in firmware, and use our tweak script from Linux: librem_mini_auto_power_on.sh

Librem Mini and PureBoot put you in the driver's seat.  Update your firmware with our update instructions!
Purism Products and Availability Chart
Model
Status
Lead Time
Librem Key

(Made in USA)
In Stock
($59+)
10 business days


Librem Mini
In Stock
($799+)
10 business days
Librem 5
In Stock
($999+)
3GB/32GB
10 business days
Liberty Phone
(Made in USA Electronics)
In Stock
($1,999+)
4GB/128GB
10 business days
Librem 11
In Stock
($999+)
8GB/1TB
3 business weeks
Librem 14
In Stock
($1,370+)
3 business weeks
Librem Server
In Stock
($2,999+)
10 business days
The current product and shipping chart of Purism Librem products, updated on October 19th, 2023