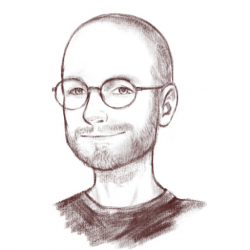 Latest posts by Guido Günther (see all)
Yes, you can go onto a multi week trip with a smartphone running free software. I wanted to share some impressions from my recent trip to Prizren/Kosovo to attend Debconf 22 using a Librem 5. It's a mix of things that happened and bits that got improved to hopefully make things more fun to use. And, yes, there won't be any big surprises like being stranded without the ability to do phone calls in this read because there weren't and there shouldn't be.
After two online versions Debconf 22 (the annual Debian Conference) took place in Prizren/Kosovo this year and I sure wanted to go. Looking for options I settled for a train trip to Vienna, to meet there with friends and continue the trip via bus to Zagreb, then switching to a final 11h direct bus to Prizren.
When preparing for the trip and making sure my Librem 5 phone has all the needed documents I noticed that there will be quite some PDFs to show until I arrive in Kosovo: train ticket, bus ticket, hotel reservation, and so on. While that works by tapping unlocking the phone, opening the file browser, navigating to the folder with the PDFs and showing it via evince this looked like a lot of steps to repeat. Can't we have that information on the Phone Shell's lockscreen?
This was a good opportunity to see if the upcoming plugin infrastructure for the lock screen (initially meant to allow for a plugin to show upcoming events) was flexible enough, so I used some leisure time on the train to poke at this and just before I reached Vienna I was able to use it for the first time. It was the very last check of that ticket, it also was a bit of cheating since I didn't present the ticket on the phone itself but from phosh (the phones graphical shell) running on my laptop but still.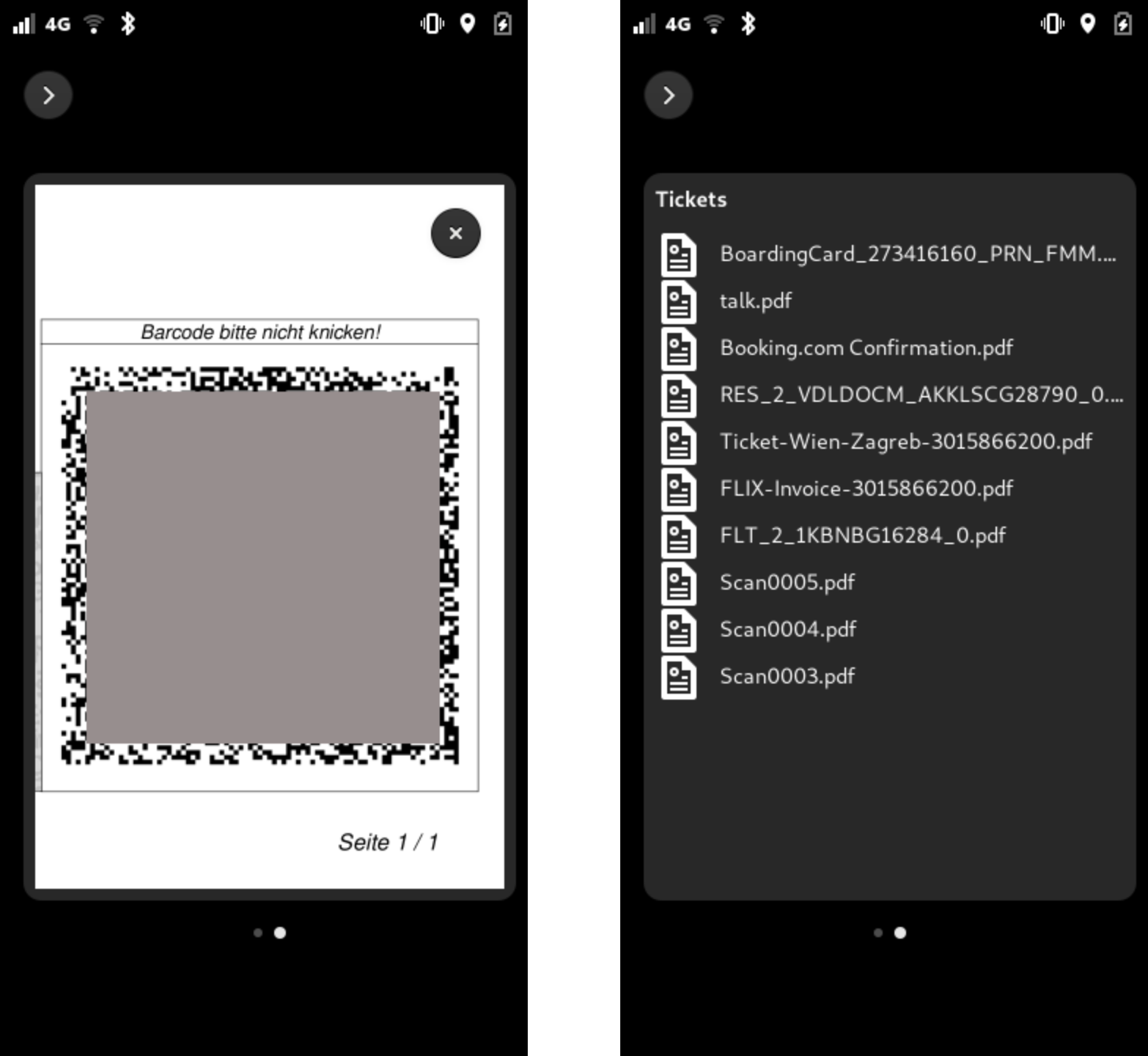 This was possible since phosh is written in GTK and so I could just leverage evince's EvView. Unfortunately the hotel check in didn't want to see any documents ☹.
For the next day I moved the code over to the Librem 5 and (being a bit nervous as the queue to get on the bus was quite long) could happily check into the Flixbus by presenting the barcode to the barcode reader via the Librem 5's lockscreen.
When switching to the bus to Prizren I didn't get to use that feature again as we bought the tickets at a counter but we got a nice krem banana after entering the bus – they're not filled with jelly, but krem – a real Kosovo must eat!).
Although it was a rather long trip we had frequent breaks and I'd certainly take the same route again. Here's a photo of Prizren taken on the Librem 5 without any additional postprocessing: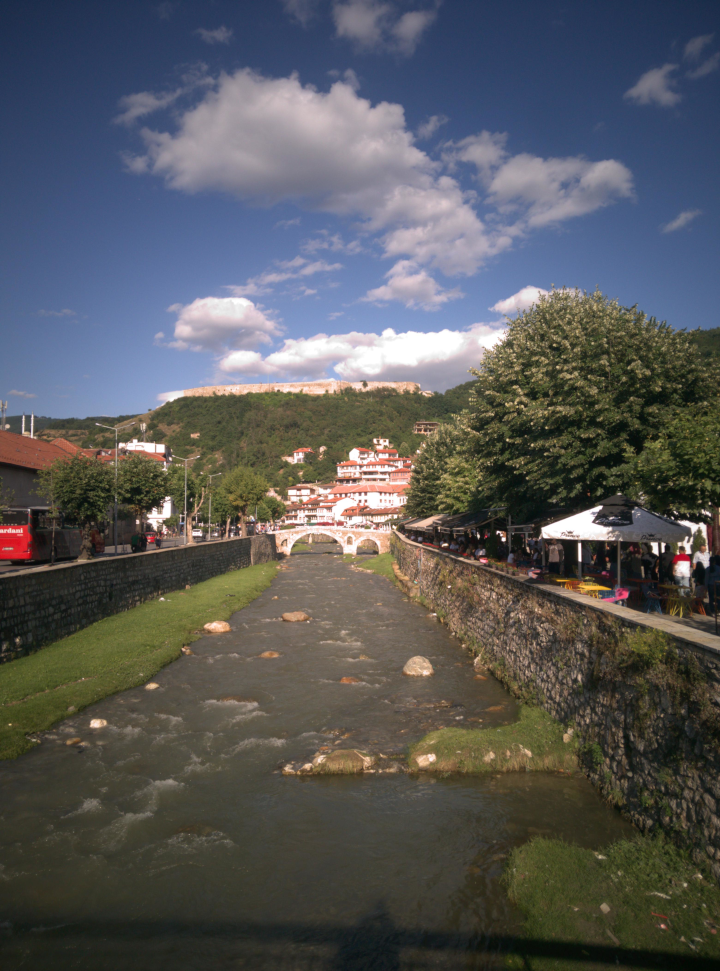 What about seeing the conference schedule on the phone? Confy(a conferences schedule viewer using GTK and libhandy) to the rescue: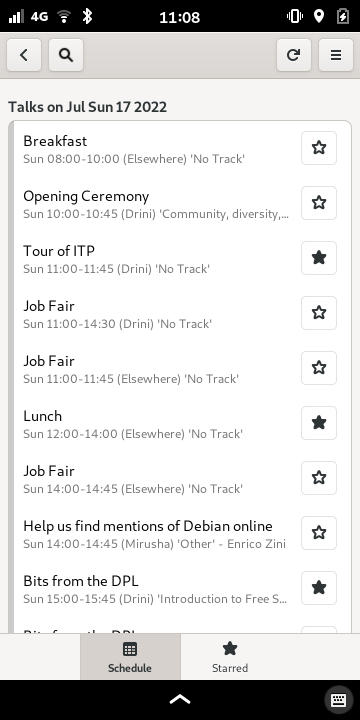 Since Debian's confy maintainer was around too, confy saw a bunch of improvements over the conference.
For getting around Puremaps(an application to display maps and show routing instructions) was very helpful, here geolocating me in Prizren via GPS: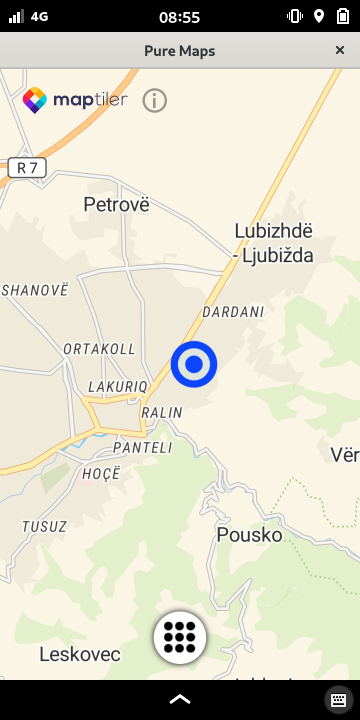 Puremaps currently isn't packaged in Debian but there's work onging to fix that (I used the flatpak for the moment).
We got ourselves sim cards for the local phone network. For some reason mine wouldn't work (other sim cards from the same operator worked in my phone but this one just wouldn't). So we went to the sim card shop and the guy there was perfectly able to operate the Librem 5 without further explanation (including making calls, sending USSD codes to query balance, …). The sim card problem turned out to be a problem on the operator side and after a couple of days they got it working.
We had nice, sunny weather about all the time. That made me switch between high contrast mode (to read things in bright sunlight) and normal mode (e.g. in conference rooms) on the phone quite often. Thankfully we have a ambient light sensor in the phone so we can make that automatic. See here for a video.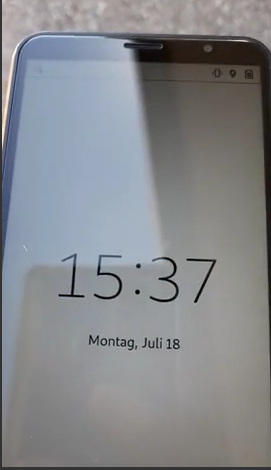 Jathan kicked off a DebianOnMobile sprint during the conference where we were able to improve several aspects of mobile support in Debian and on Friday I had the chance to give a talk about the state of Debian on smartphones. pdf-presenter-console is a great tool for this as it can display the current slide together with additional notes. I needed some hacks to make it fit the phone screen but hopefully we figure out a way to have this by default.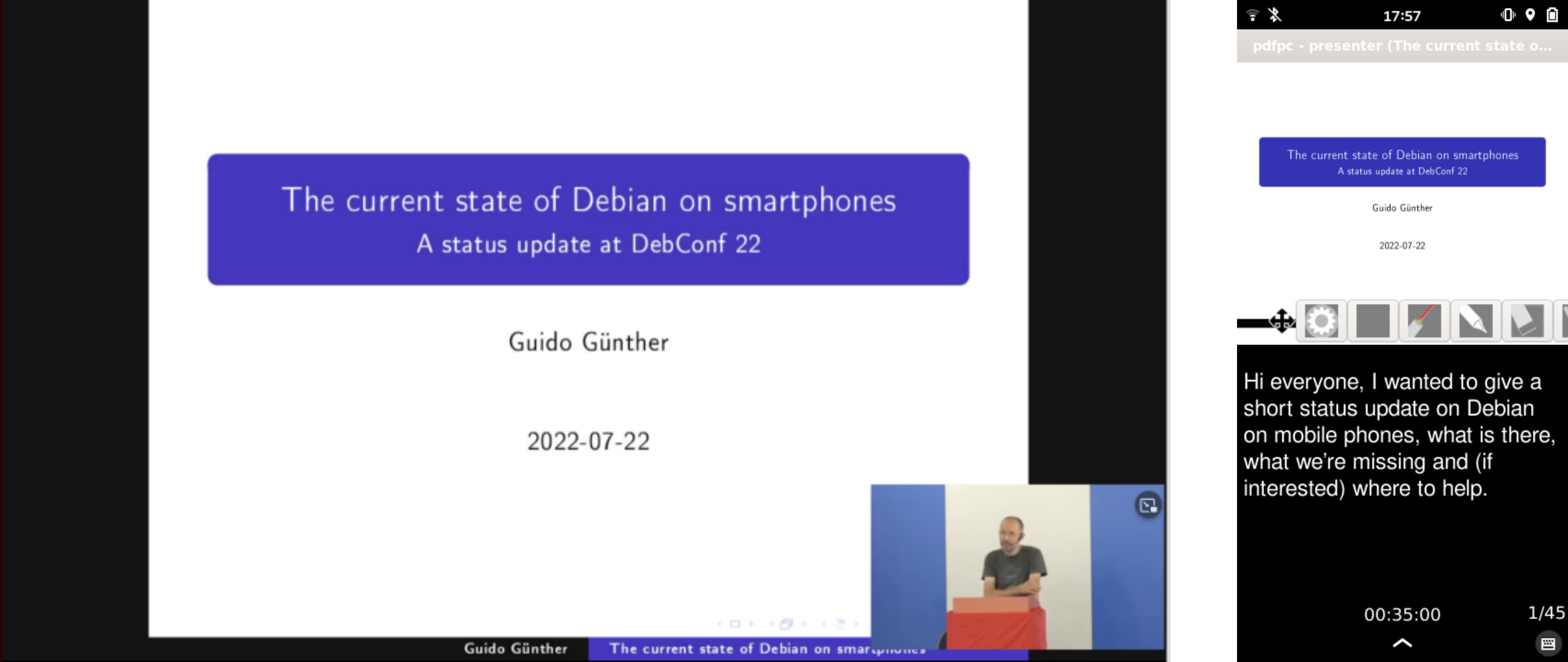 I had two great weeks in Prizren. Many thanks to the organizers of Debconf 22 – I really enjoyed the conference.
The story has been cross-posted from the blog, Colors of Noise, found here.
Purism Products and Availability Chart
Model
Status
Lead Time
Librem Key

(Made in USA)
In Stock
($59+)
10 business days


Librem Mini
In Stock
($799+)
10 business days
Librem 5
In Stock
($999+)
3GB/32GB
10 business days
Liberty Phone
(Made in USA Electronics)
In Stock
($1,999+)
4GB/128GB
10 business days
Librem 11
In Stock
($999+)
8GB/1TB
3 business weeks
Librem 14
In Stock
($1,370+)
3 business weeks
Librem Server
In Stock
($2,999+)
10 business days
The current product and shipping chart of Purism Librem products, updated on October 19th, 2023